Activity tracker manufacturer Fitbit has found itself in hot water after it re-posted an Apple Daily  article about chief secretary Carrie Lam wearing its smart wristband Fitbit Flex during a radio interview about the second round of consultation of the electoral reform, a subject of heated and controversial debate.
But while the brand's page, managed by digital marketing agency Daylight Partnership, has received a slew of negative comments over the re-posting, its number of Facebook fans has actually gone up.
David Ko, co-founder and MD at Daylight Partnership admitted it was a mistake.
"Due to the sensitive nature of Carrie Lam's position, the re-post should not have happened. As Fitbit's digital agency we take 100% responsibility," Ko said.
"We cannot comment on Fitbit specifically but with prior agreement, occasionally Daylight will post real-time content ahead of approval by a client."
The original Apple Daily article was not pitched by Fitbit or Daylight Partnership and Lam was not sponsored by Fitbit to wear the product.
Below is the original Carrie Lam Facebook post by Fitbit, which was deleted an hour and a half after it was published on the afternoon of 8 January: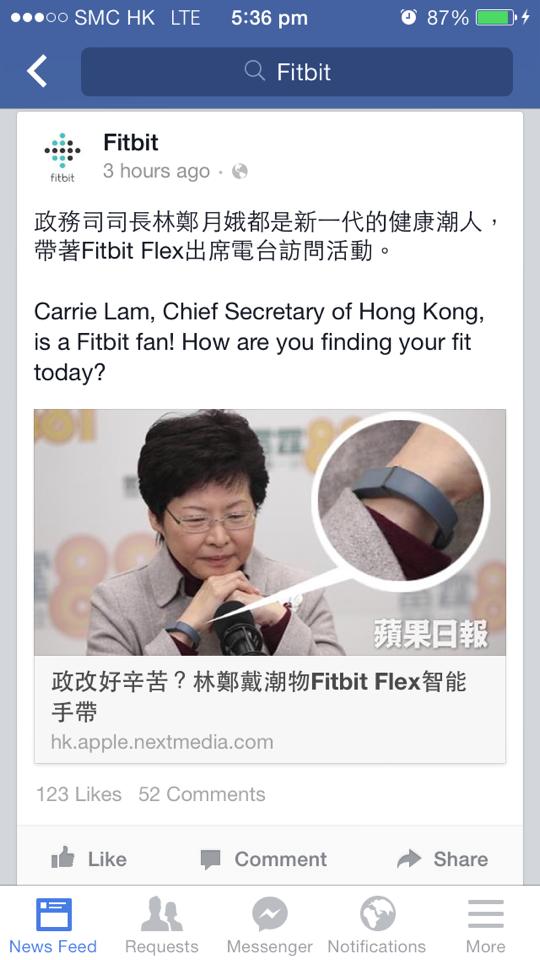 The Facebook post was also boosted as a sponsored post meaning it showed up in the News Feed of users who are not fans of the Fitbit page.
In addition to negative posts to the page, Facebook posts published before and after the Carrie Lam post received flaming comments from pro-Occupy Central users and general users angry that Fitbit was trying to get publicity from Lam wearing the brand's product, with some calling for boycotts of the brand and its products, while other anti-Occupy users declared a new commitment to the brand.
Fitbit's Facebook fans actually increased
Although the brand received negative comments from the Carrie Lam post, from an analytics point of view, the net number of likes for the brand's Facebook page increased after 8 January.
"The Fitbit Hong Kong Facebook page actually experienced an approximate 400% surge in Likes growth on 8 January, the day that this post attracted attention," Ko said.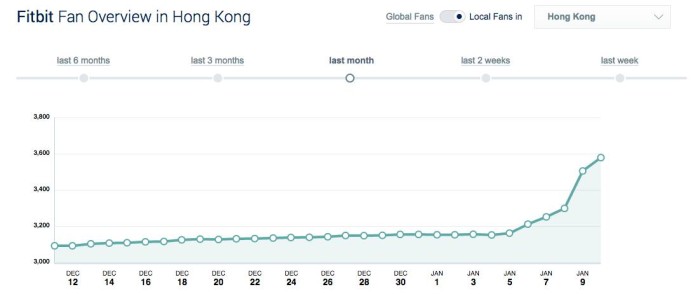 According to Socialbakers' data regarding Fitbit's fan page, its number of Hong Kong fans shot up from roughly 3,300 on 8 January to almost 3,600 on 10 January.
Jansen Lu, director of social business strategy at GroupM, said merely looking at the number of fans is insufficient for assessing the impact of the Carrie Lam post.  The content and the general sentiment of the comments should also be considered.
"It's not just about whether the comments are positive or negative.  Are the comments about your product? In this particular case, most of the comments were not about the product but about the wrong PR strategy taken," Lu said.
He added that social media crises can affect the brands' organic Facebook reach in the long run.
"If users choose to hide a post they don't like in their News Feed or if they report the post to Facebook as something they don't like or find annoying, this will reduce the organic reach of the brand's posts in the future," Lu said.
As it happened
Many of the Facebook users who commented about the Carrie Lam post saw the post as unnecessary, given the fact that Lam has come under fire over the past few months during the Occupy Central protests.
She is also a central figure in the now heated debates regarding the second round of the electoral reform.
Facebook user Pierre Ho commented, "If I bought this, wouldn't I be just like Carrie Lam who has no conscience? I don't want that.  (Thanks for the reminder, Fitbit's PR agency)."
"That dog leash is Fitbit's? Why don't you sponsor the Hong Kong police force to have these dog leashes to stop them from biting people?" asked Facebook user Sunny Mak.
Meanwhile, Facebook user Sacralise Eh wrote, "If you cooperated with the Communist Party, it would help you reach your PR goals even more quickly."
"This is the must-have lifestyle product of the blue ribbons (people who are anti-Occupy Central), quick, go for it!" Facebook user Miu Wong wrote.
On the other hand, a handful of users jumped to support the brand because of the Carrie Lam post.
Facebook user Sam Kwok wrote, "I insist on buying this - what can you do to me?" while another user Yu Wu commented, "Because of Carrie Lam and Apple Daily's recommendation, this brand has suddenly become very popular and lots of people want to buy its products."
Lu said by reposting the Apple Daily article about Lam, objectively speaking, the Fitbit Facebook page made itself a battlefield for pro and anti Occupy Facebook users.
"Especially at this time when people are debating about the second round of the electoral reform, the views of both those who are pro and against the reform are very extreme.  They are no longer talking about your product but expressing their political views on your page," Lu said.
Furthermore, many of users' sarcastic complaints expressed anger at the fact that Fitbit and Daylight Partnership was taking advantage of the Apple Daily article, casting Fitbit as an opportunistic brand.
Facebook user Chan Chu Him wrote, "If I was the PR agency, I would immediately launch a yellow version of the band."
Meanwhile, Facebook user Kevin Mok wrote, "If I was the PR agency, I would keep going and give away a few more bands and launch a bright yellow Umbrella Revolution version."
"How dare you use what Carrie Lam wears to launch an opportunistic promotional campaign? Deleting the post is useless - you have already written your name in the history books," Facebook user Felix Lam responded angrily.
Responding to the slew of negative user comments
Daylight Partnership had boosted the post by placing it as a sponsored news feed post, which could leave the impression on some users that the agency believed it was a good enough idea to promote it further using ad dollars.
"The agency seemed very confident in the post and believed it's really good to sponsor it because in social media marketing, not all posts would be sponsored.  In the business world, agencies try to minimise these types of stories, especially since it's not a real endorsement from the person," Lu said.
"To make such a bold move means the agency thought it was a smart move and a risk worth taking."
In response, Ko says branded Facebook posts are often promoted as sponsored posts in general by social media marketers because of Facebook's reduced organic reach for such posts.
However, in this specific case, he said, "There is no relation between the content and the decision to boost, or sponsor, this post."
Not all of Daylight Partnership's posts are sponsored and the agency does advocate that clients promote specific posts, Ko added.
The agency's decision to delete the original Carrie Lam Facebook post means that all of the comments on that post were also deleted.
Some users posted screencaps of the original post back onto the page and older Facebook posts by Fitbit.
"To be very clear, Daylight did not delete a single comment. However, we did delete the original post after 1.5 hours once we realised a mistake was made. In Facebook, when a post is deleted, all comments under that post disappear as well," Ko said.
"We have not deleted any of the subsequent comments on other posts and we do not plan to do so."
However, he said he could not comment on why no apology or explanatory post has been published on the Fitbit page to address the stream of angry and negative comments from users about the now deleted Carrie Lam post.
Lu said that generally, politically charged discussions cannot be easily explained away.  He believes deleting the post is a kind of action taken by Daylight Partnership in response to the social media crisis.
"Issues like these have to be addressed - either you publish an announcement about it, debate with users or delete the post.  They did something to address and handle the situation by deleting the post," Lu said.
"But it is difficult to predict whether there will be more comments by users about the Carrie Lam post in the near future."
There have been no comments regarding the Carrie Lam post on the brand's latest Facebook post on Fitbit Weight Watchers published yesterday morning.
Does real-time marketing mean an agency is more prone to mistakes?
Moving forward, Ko said the agency will focus on Fitbit's brand messages and reinforce the idea that the brand is not political.
The agency will maintain its current process for planning branded content but will add new checks and balances in their management of real-time content.
"It's a delicate balance that many digital agencies have to deal with: how to have a content approval process that is nimble enough to capture real-time events while not diminishing the impact of a well-timed post," Ko said.
"Will we continue to do real-time marketing? Yes, because it is a valuable tool in a very noisy online environment. It would be illogical to allow a single negative reaction to overturn that strategy."
According to Lu, in general, if an agency decides to post about a particular person on Facebook, the sentiments of social media users towards such a person should be well-researched before deciding whether not to post it, in spite of the time constraints posed by real-time marketing.
"It's worth taking a little time to go to Apple Daily or Ming Pao or other news sites to look at the comments on news pieces about the person you want to post about by users," Lu said.
"If the idea of doing the post is good and if there is little chance that your competitors will post the same thing before you, then spending time doing this quick bit of research will not take time away from doing real-time marketing."
In general, Ko said the agency does not use politics in their work for brands unless it is part of the client's strategy.
"Daylight itself is by no means apolitical: our staff are predominantly young people of the Millennial generation and in fact Daylight allowed staff to take leave to attend Occupy Central, like many other companies in our industry," Ko said.
"There will always be disagreement among us on the ways and means, but at the end of the day we all want what's good for Hong Kong's future."
It remains to be answered why in the case of the Fitbit Carrie Lam Facebook post, Daylight Partnership decided to make an exception in their policy of using political content in their content marketing strategy for a client that does not have a political branding strategy but the results are definitely bittersweet.