In this new age of social media, people are connected and empowered like never before. Every voice on the internet matters and mishandling of the smallest complaint on Facebook can escalate into a full blown public relations (PR) crisis.
Mannings was the latest high-profile example of a major brand being caught in such an event, after they filed a theft charge against a 77-year-old cleaner who was later found not guilty.
While the crisis is now over, much can be learnt to handle similar situations in the future. A recent study by ClusterTech, an advanced IT solutions and consultancy provider in Hong Kong, extracts insights about the saga, collected through all major social channels.
How "crisis intelligence" could have prevented the crisis
The Mannings saga unfolded on 16th January, and gained momentum on the following two days. If we look at the timeline of the incident, we can pinpoint a few moments where things went from bad to worse. What if the brand owner was well informed of the situation and proper actions were taken? The outcome could have been very different. By constantly monitoring social media conversations, a crisis intelligence tool is able to extract insights over a number of dimensions, identify issues in real time, and automatically alert brand owners to act. The key insights that could have prevented the saga from escalating into a full blown crisis:
Key insight 1: who are influencing public opinions (top influencer participation):
The study recorded mentions by top influencers on Facebook, media outlets and online forums. On the 16th January, there was only one mention, by a media outlet; on the 17th, the counts went up to five on Facebook, three on media websites and five on online forums. This sharp increase continued to the 18th January. By the end of the 18th, the incident had become a full blown crisis - 14 on Facebook, 11 on media websites, and 10 on forums. If Mannings received timely alerts of the problem, they could have taken earlier action.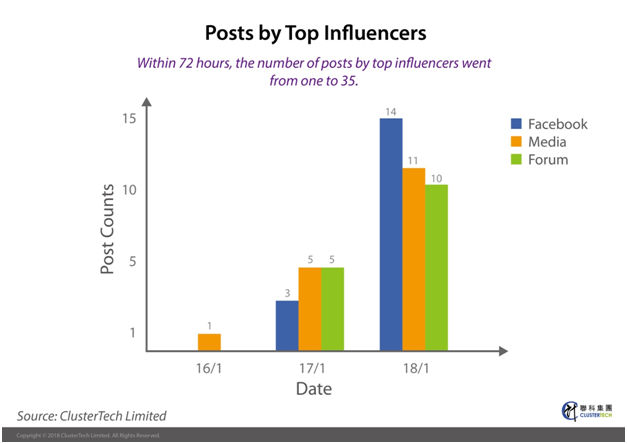 Key insight 2: public perception of your brand (sentiment analysis):
Sentiment analysis results show that anomalies were detected many times, as the saga was developing. At 8:00 pm on 17th January, negative sentiments on Mannings' Facebook fan page were 400% higher than expected. At 8:45 pm, it went up to 900%. At 12 am, it was a whopping 1,900%. This was a serious warning of an imminent PR crisis, and the brand should have reacted much more quickly.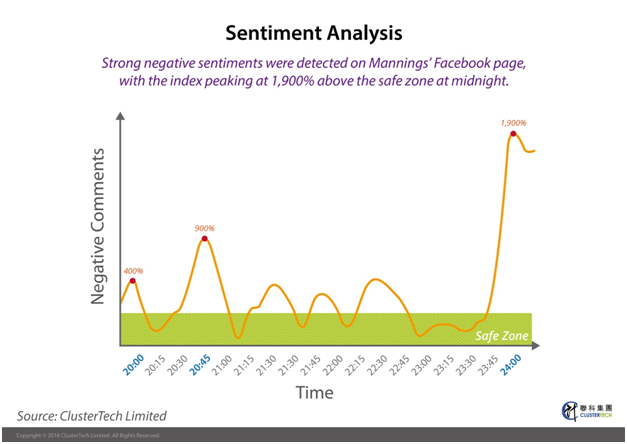 Brands need "crisis intelligence"
Preventing a PR crisis starts with identifying early warning signs. By sensing threats early, brand owners can take appropriate measures before such threats swirl into crises. This sounds like simple logic but most brands struggle to do so, because they are dealing with not just one but multiple channels. Billions of conversations are happening online every day. A media intelligence tool can help monitor social mentions, but it would fall short in terms of picking up signals of potential crises. A crisis intelligence system, in contrast, can identify threats, and send alerts to brand owners, prompting them to react immediately, with actionable insights – who are influencing public opinions, and more importantly, what are the sentiments shown in online conversations.
In order to stay ahead of crises, brands need powerful intelligence tools that can achieve the following:
Multi-Dimensional Analysis: In addition to media exposure analysis, it should be able to analyse users' sentiments by performing in-depth analysis of online conversations.
Intelligent Alert System: Once threats have been identified, it is vital that brand owners are alerted, so they can react immediately.
Extensive Data Collection: The data collected must be extensive and relevant, including activities from not only your social media accounts, but also major media outlets and KOLs alike.
Intuitive Reporting: Data presented in a visual format is easy to understand, and can help brand owners make timely and informed decisions in the face of potential crises.
PRISMA Crisis Intelligence - an innovative PR crisis management tool
In a PR crisis, brands are expected to respond with empathy, transparency, and speed. There is little tolerance for responding in a dismissive corporate voice. PRISMA Crisis Intelligence is able to cut through the noise, identifying the conversations that matter. It monitors context-based conversations on social media, generates analysis results, and gives alerts with an industry-leading latency of 15 minutes, allowing brands to respond effectively.
In conclusion, even though we are living in a world where billions of conversations occur online every day, and given that a crisis can arise from any channel at any time, a crisis management tool can help brands react in a timely manner.
To know more about PRISMA Crisis Intelligence, click here .
This article was brought to you by ClusterTech Limited.