Twitter has revealed a new emoji dedicated to President-Elect Halimah Yacob, following her presidential victory on Monday. The Twitter emoji design was created in Yacob's likeness, with Singapore's national colours for her tudung (headscarf in Malay).
According to a press statement, this is the first time that Twitter has created a special emoji for a national leader in Singapore. It is also the first Twitter emoji created for a female head of state in the world.
According to Twitter, the emoji aims to enable Singaporeans to easily "converse in a fun way" about the new President-Elect through a simple tweet. It also looks to have Singaporeans and people all over the world mark the occasion, send their congratulations to Yacob and Singapore, as well as spark conversations about the moment.
From now until 1 October 2017, the emoji will appear in tweets with the hashtags #HalimahYacob, #PresidentHalimah, #MdmPresident, #SingaporePE2017, #PE2017, and #SGElections. The new emoji was also done in collaboration with local news portal Mothership.sg.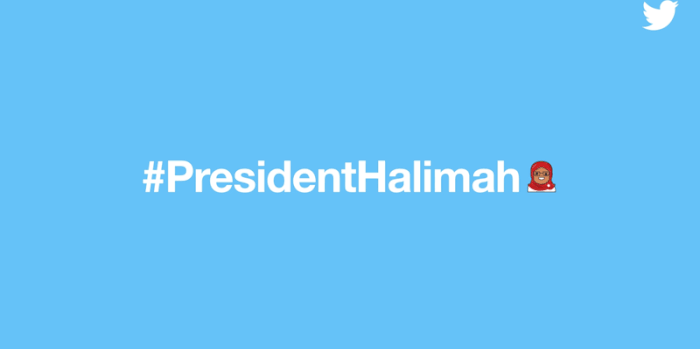 "Twitter is honoured to be part of this milestone in Singapore's history in commemorating the country's first-ever female president. Singaporeans, like other people around the world, follow national and world leaders on Twitter to get live updates on their governance, digital diplomacy, and to connect with them in real-time on a wide variety of topics," Kathleen Reen, director of public policy, Twitter Asia Pacific, said.
Here are the online reactions to the new emoji so far:
My President has her own emoji. That's cute #HalimahYacob

— Jack Chong (@JackChong__) September 13, 2017
Awwww there's an emoji for #HalimahYacob — Dwi (@Idayunyxx) September 13, 2017
Really find this emoji endearing - @MothershipSG did a great job with this. #PresidentHalimah #HalimahYacob #MdmPresident #PE2017 pic.twitter.com/9M1DpUH7BE

— Philip Chua (@philipchua) September 13, 2017
Twitter's move followed the recent conclusion of the Singapore presidential elections, which saw Yacob coming in victorious after a walkover was announced. This came after Yacob was found to be the only presidential hopeful to meet the requirements out of five applicants, according to  The Straits Times .
The event sparked mixed reactions only, with data from global media monitoring house Meltwater observing an  "extensive increase in social media chatter" . This was observed around the Singapore Presidential Elections results.
Twitter's custom emoji: A PR or business move?
This is not the first time Twitter has created custom emojis celebrating a trending topic or special occasion. Most recently, the platform rolled out an emoji depicting the Night King of popular HBO drama series Game of Thrones during its latest season run. It also rolled out a custom emojis during the Hari Raya and Chinese New Year holiday seasons.
When asked about the impact on engagement these custom emojis have on its platform, Twitter was unable to comment at the time of writing.
In a conversation with esb电竞数据投注电脑版 , Preetham Venkky, chief digital officer, KRDS, said Twitter's initiative to create a custom emoji for Halimah Yacob is great PR move on its part to jump in on a topic which is not only trending, but also relevant and contextual to Singaporeans.
He added that it also makes sense for the platform to jump on the topic in such an intrinsic manner, to build on the stories surrounding it and give users an additional reason to engage on the platform.
"While the move might drive some engagement and interest with users in the short term, the buzz is likely to die down as fast as it started. The custom emojis are also unlikely to have a long term impact on the business challenges it is currently facing such as declining audience numbers," Venkky said.
Agreeing with Venkky was Prantik Mazumdar, managing partner at Happy Marketer, who also expressed doubts that custom emojis would help Twitter attract new users to the platform. Mazumdar explained that custom emojis however, can be quite powerful.
"Not only do these emojis act as eye-catching visual symbols in the timeline, but they are also an interesting way for folks on Twitter to respond quickly without expressing concrete opinions/taking stances in text form. This might be helpful for many who may not be comfortable doing so in the political arena.
Although the move to create a custom emoji was Twitter-initiated, the company also has a similar offering targeted at brands looking to create their own custom emojis. According to an Adweek report , Twitter was reported to charge a "seven-figure" price for brand icons, with custom emojis being reserved for its biggest advertisers such as Coke, Starbucks, Spotify and Dove.
Mazumdar is of the view that if "short-term experiments" such as custom emojis go well, Twitter can also consider opening API platforms to brands. This will allow brands to custom create their own hashtag-linked emojis that they can market to their customers and fans.
"This bottom-up, groundswell approach is more likely to help Twitter leverage emojis to scale up their user base and the usage numbers by co-creating and partnering with brands," Mazumdar added.
When asked about marketer interest in custom emojis in Singapore, Venkky said that there wasn't a current overwhelming demand for custom emojis from a client perspective. Agreeing with Mazumdar, Venkky brought up the example of Facebook, which struck partnerships and APIs to bolster its growth.
"For more tangible business outcomes, partnerships should also be a strategy that Twitter takes to boost its growth. Its recent move striking over 35 content partnerships is a good start," Venkky added.